ONLY WHEN YOU NEED ME
We need water for our wellbeing. Sometimes, we buy this in a bottle. Our mission is to provide you with a choice in these moments. A choice that challenges everything the current industry is based on. A choice that is based on improving our drinking experience and carbon footprint. A bottle made from renewable resources that can be reused, and finally returned to us for composting or repurposing.
Find Out More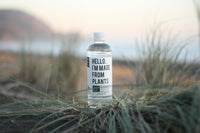 SHOP NOW
If you're looking for a bottled water option that doesn't cost our earth for your store, event or workplace, simply order online and we'll deliver directly to you. Once your done with your used bottles book a collection with us, we'll collect and compost them for you.
Testimonials
These bottles are magic! This is exactly the direction we want to head in as a cafe.

Barb @ Provisions Cafe, Arrowtown
For The Better Good have helped us immensely on our packaging sustainability journey, they are extremely knowledgable, and leaders in their field. They are great people with a lot of passion for what they do.

Whittaker's
We're passionate about sustainability and making a difference. A love of the sea and beautiful places means we are committed to participating in the fight to save them, and helping to reverse the decline in the overall environmental health and social well being of our planet. We are delighted to be working with The Better Good - their ethos aligns perfectly with our own.

The Superyacht Gathering
This is more than just a product, its a movement.

Jeff Kim @ And Sushi, Auckland
We strongly believe as a business, we have responsibility to provide mindful and ethical choices for our students and wider community. For The Better Good Water gives us that opportunity to offer an option that is sustainable and friendlier on our environment. We are thrilled to be stocking this awesome product.

Kirsty Van De Geer @ East West Yoga, Auckland
It has been said that sustainability is no longer about doing less harm. Its about doing more good. You can be part of this today by buying the revolutionary, plant-based re-useable and compostable water bottles made by For The Better Good.

Jill Guy @ The Good Earth, Dunedin
Follow Us on Instagram
>